Life is Beautiful is an annual fall tradition in Las Vegas
Experience "Life Is Beautiful" like a VIP in Las Vegas
By Rob Kachelriess
Photo: Life is Beautiful/aLIVE
Life is Beautiful is an annual fall tradition in Las Vegas. Now in its seventh year, the music, art and food festival returns September 20-22, taking over more than 15 blocks of Downtown. Headliners include The Black Keys, Post Malone, Chance the Rapper and Billie Eilish. Thousands will be in attendance, but only a few will experience the event like a true VIP. Here's your guide to enjoying Life is Beautiful without limitations.
All-In Passes
For the ultimate Life is Beautiful experience, reserve an All-In ticket for $2,750. The 3-day pass includes private elevated viewing areas, lounge seating, cocktail bars, complimentary drinks, food vouchers and mixology demos. Enjoy multi-course brunch menus from Honey Sat (Saturday) and DW Bistro (Sunday) at the Bunkhouse Saloon before the Life is Beautiful gates open. Participants will have the first crack at being on the festival grounds before anyone else. The Artist Hospitality Lounge has a live sushi station and Japanese-inspired small bites from Sake Rok. Feast on sea bass sliders, pork belly skewers and more.
‍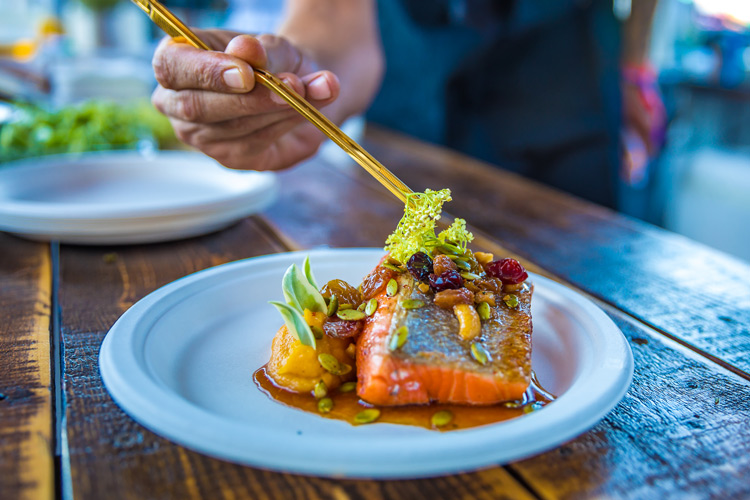 Photo: Life is Beautiful/aLIVE
VIP+ Passes
VIP+ passes are $525 per day and $1,295 for the weekend. Perks include shaded lounges, complimentary drinks, and access to VIP Village. A VIP+ Happy Hour features craft cocktails from Starboard Tack, caviar and a rotating lineup of bites from Eataly and Gordon Ramsay Steak at a viewing deck overlooking the Downtown stage.
Exclusive Omakase Experience
More than 80 chefs and mixologists will be at Life is Beautiful, serving food and drinks throughout all three days of the festival. For the first time this year, there will be an Omakase Cantina with seating for just 12 people in 90 minute windows to enjoy a full dinner experience from a pair of high-profile Las Vegas chefs. The ultra-exclusive experience is available through secretburger.com on a limited basis.
Need a hookup to Life is Beautiful? Book a flight to Las Vegas with Cirrus Aviation Services (702-472-9714) and coordinate a weekend to remember with VegasGiant (702-476-0001). Ground transportation, hotel suite reservations and other perks are just a phone call away. Make plans to experience Life is Beautiful like a true VIP in Las Vegas.