Mexico is full of vacation spots packed with excitement, beauty, relaxation and personality. There's a lot of variety and your experience can vary wildly, depending on the city or town you choose to visit. When looking for a Mexican retreat rooted in luxury, Cabo San Lucas offers stunning views and exceptional service. In less than three hours, a private jet charter can take you from the desert climate of Las Vegas to the seemingly endless clear blue water of this stunning resort city. Celebrities and other notable names have been known to find solace in the peaceful serenity of Cabo. The Obamas, Paris Hilton, Tommy Lee and Lil' Jon are just a few of the big names known to make Cabo San Lucas their exclusive Mexican destination.
What Should You Do when You Visit Cabo San Lucas?
There are plenty of things to do – both on land and in water. Here are some ways you can make the most of your moments in this beautiful Mexican paradise.
Sunrise Horseback Rides. When you see the shoreline from atop a beautiful stallion as the sun begins to peak over the horizon, all of your worries will melt away. A private horseback ride can set the mood for an incredible day.
Get on the Water. If you love fishing, or you've ever wanted to try it for the first time, Cabo is the perfect place to cast your line. For a truly elite experience, charter a private fishing boat with an experienced seaman who will take you to areas teeming with mahi-mahi, tuna, yellowtail and giant marlins.
Whale Watching. Not into fishing but still want to experience the water? The winter and early spring are ideal times for amazing whale watching tours. Cabo offers an excellent opportunity to take photos of stunning humpback and gray whales.
Go Local. The quiet town of San Jose Del Cabo is only about a half-hour drive from Cabo San Lucas. Experience remarkable culture through authentic Mexican food and beautiful local art. Spend the day dining and shopping in this historic and beautifully constructed city before returning to Cabo for another night of fun and entertainment.
Kayak & Hike. A private guided kayak tour is an exceptional way to see the seascape in its astounding beauty. From the captivating waters of the Sea of Cortez, you can find yourself at Tortuga Bay, where breathtaking scenery awaits you to lace up your hiking boots. Bring plenty of water for the long hike and a protein packed lunch to enjoy on the beach before you kayak back.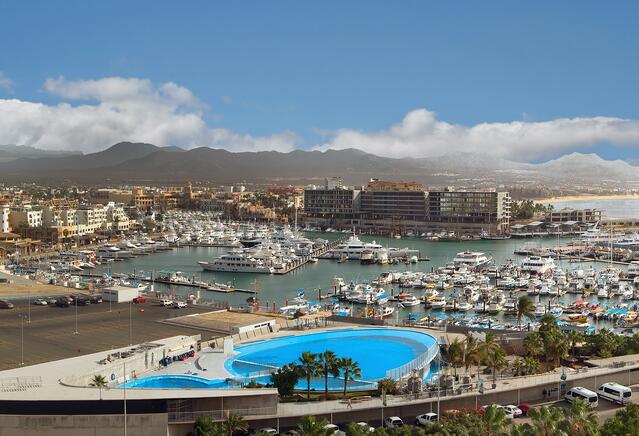 How Do You Get to Cabo San Lucas?
Commercial flights don't do an exclusive Mexican vacation to Cabo San Lucas any justice. With a private jet charter, you can begin your vacation from the moment you arrive at the Atlantic Aviation terminal at McCarran Airport and step onto your plane. You'll arrive in the lap of luxury just in time to take in the sounds of the waves as they dance upon the shore.
Ready to unwind on the beaches of Cabo San Lucas on your exclusive Mexican retreat? Book your private jet charter to Cabo San Lucas today at (702) 472-9714.
‍